TYPOLOGY: Coffee Table
LEGS: Steel, blackened or bronzed
TOP: 3/4" Marble or 1 1/2" Solid Oak

Powerfully expressive, Colibri draws inspiration from the lightness of a hammerbird's flap.
Curved lines and beveled edge to reinterpret in a contemporary language the naturalness of the solid wood and the richness of the marble.
A masterful technique of high-end Italian craftsmanship made possible the creation of an elegant metal support that, raising from the ground with a slight tilt, communicates lightness and guarantees extreme stability. The overall effect is a subtle, airy elegance.

DIMENSIONS
Available in 2 main sizes with the possibility to personalize completely the table top according to the client requests.

COL100 &nbsp &nbsp 900L x 600W x 300H (mm) - 35L x 24W x 12H (in)
COL150 &nbsp &nbsp 1500L x 720W x 300H (mm) - 59L x 28W x 12H (in)
COLCST &nbsp &nbsp Lenght up to 1800 mm (133.75 in) - Width up to 1000 mm (47.25 in)
MATERIALS & FINISHES
A wide spectrum of natural stones, including the most prestigious white marbles from Carrara, such as Calacatta, Statuario and Venatino, are available in three main finishes: polished, honed and brushed.
The solid wood top, oak or walnut, features a precious brass/steel insert and is offered in natural, sanded or stained finish.

TABLE TOP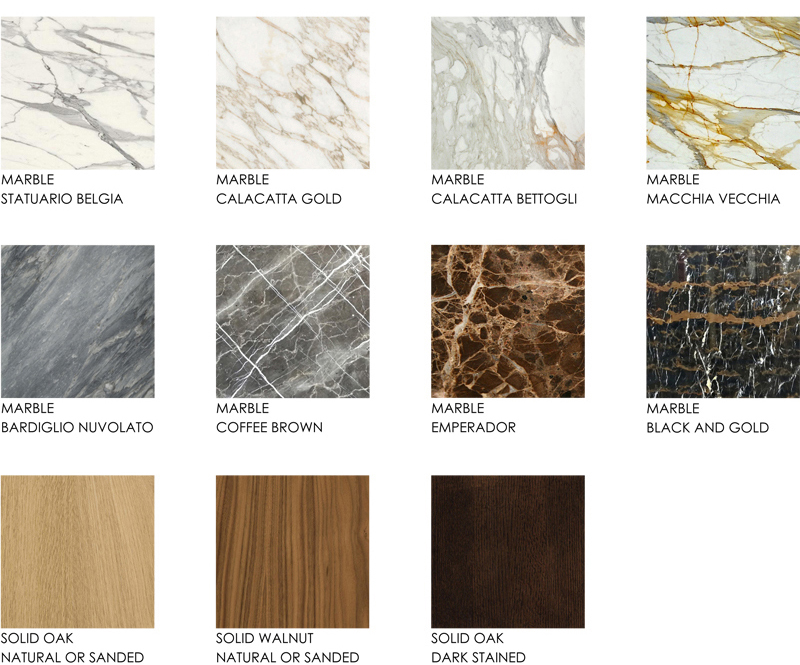 TABLE LEGS